The Catwalk is a place where people submit pictures according to a set theme, in hopes of winning the first place prize.
Costume Contest
A
Costume Contest
is where you dress up your character according to theme. You then submit your entry to the contest, basically taking a picture of your character's current outfit. It costs 20 coins to enter your character in a Costume Contest. PAGE UNDER CONSTRUCTION PLEASE THANK U KTHXBAI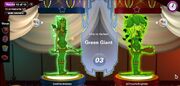 Ad blocker interference detected!
Wikia is a free-to-use site that makes money from advertising. We have a modified experience for viewers using ad blockers

Wikia is not accessible if you've made further modifications. Remove the custom ad blocker rule(s) and the page will load as expected.