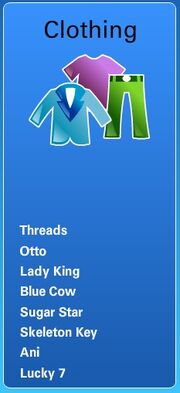 Clothes is garments that players can wear. Some clothes have power boost bonuses that increases the speed of incoming flow, some may have a time limit or some clothes may have a level requirement to equip.
Stores
Threads
Otto 
Lady King 
Blue Cow
Sugar Star
Skeleton Key
Ani
Lucky 7
GetUpz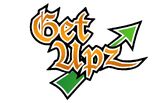 GetUpz is an achievement game within ourWorld. The aim of the game is to complete 3 sets of clothes to unlock a exclusive item. Learn more from here
Flow Bonus
Duration
Requirements
Inventory
Special 

Monthly Item
Mystery Box
Magic Box
Rare
Powerup
Marketplace
Transmute

Bottoms

Top

Long sleeve
Short sleeve
Sleeveless

One piece

Bodysuit
Dresses
Costumes

Coats

Head

Hats
Decoration
Sunglasses

Hair

Accessories

Bracelets
Belts
Neckwear
Bags

Feet

Hands

Treasure Hunt
Ad blocker interference detected!
Wikia is a free-to-use site that makes money from advertising. We have a modified experience for viewers using ad blockers

Wikia is not accessible if you've made further modifications. Remove the custom ad blocker rule(s) and the page will load as expected.