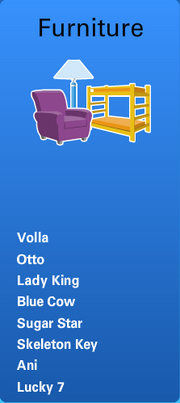 Furniture refers to a type of item that players can place in their Condos. There are different furniture types for different rooms. Some are only to be placed in certain rooms, for example a nest can only be placed in the garden.
Stores
Threads
Otto 
Lady King 
Blue Cow
Sugar Star
Skeleton Key
Ani
Lucky 7
Special Furniture
Inventory
Seating
Tables
Beds
Lighting
Floor Lamp
Table Lamp
Accent Lights
Storage
Cabinets
Dressers
Containers
Decor
Textiles
Wall Paper
Wall Panels
Flooring
Decals
Scenery
Frames
views
Themes
Landscaping
Media
Rooms
Bathroom
Kitchen
Garage
Hobby
Garden
Powerup
Themes
Nests
Seeds
Ad blocker interference detected!
Wikia is a free-to-use site that makes money from advertising. We have a modified experience for viewers using ad blockers

Wikia is not accessible if you've made further modifications. Remove the custom ad blocker rule(s) and the page will load as expected.