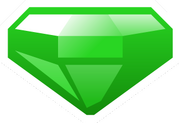 Gems are one of the most wanted currencies in ourWorld, they appear as green emerald shaped gems located on the top bar besides your coins.

A great topic on the ourWorld Forums explains how to obtain more gems:
http://forums.ourworld.com/forums/posts/list/100634.page
Unlike Coins, Gems are used to buy more exclusive content but much harder to obtain.
Earning gems
Gem codes: There are weekly gem code released on ourWorld's facebook page, a monthly gem code released with the monthly news article and a toolbar code that usually updates around the same time of the monthly.
Earn gems for free: watching youtube videos, surveys, downloads and trials. However... these offers are not guaranteed you'll receive gems.
Buying Gems
Online Purchase: You can buy gems though ourWorld. The most popular option of purchasing gems is going to SuperRewards through the Partner. $5 USD = 165 gems
ourWorld Card: ourWorld game cards can be found at stores such as Kroger, Walgreens, Walmart, etc. Once the game card is bought, you can enter the code on ourWorld and you will get 300 gems and a one month residency.
Warning: Any offers outside of ourWorld that requires your bank details is a scam, you could risk your security and system. Only trust offers within ourWorld or partners of ourWorld. For a list of partners click here
Ad blocker interference detected!
Wikia is a free-to-use site that makes money from advertising. We have a modified experience for viewers using ad blockers

Wikia is not accessible if you've made further modifications. Remove the custom ad blocker rule(s) and the page will load as expected.