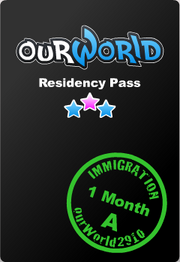 A Resident is a special type of player in ourWorld. Residents get special advantages in-game and a special section all to themselves on the ourWorld forums. They also have a yellow triangle to the left of their username, so it is possible to distinguish a Resident from a Tourist.
How to become a Resident
There are three ways to become a Resident:
Online Purchase: You can buy Residency straight from the Purchase Center. You have a choice of one month for $5.99 USD or $49.99 USD for 12 months.
ourWorld game card: ourWorld game cards can be found at stores such as Kroger, Walgreens, Walmart, etc. Once the game card is bought, you can enter the code on ourWorld and you will get a one month residency.
Resident Pass: For those who cannot pay for it, you can save up 200 gems to buy a Resident Pass in-game. This pass will grant all the benefits of residency except monthly gems. There are 1 month and 3 month resident pass.
If you plan to get residency it is recommended you purchase residency through the Purchase Center.
Warning: Any offers outside of ourWorld that requires your bank details is a scam, you could risk your security and system. Only trust offers within ourWorld or partners of ourWorld. For a list of partners click here
Benefits
150 gems per month
A bigger condo called a Mondo Condo
1 free condo item per month
Access to the Beach, Soho Park, and Skeleton Key Dungeon
Resident Jackpot (chance to win gems instead of coins)
New profile colors, hair colors, eyebrow colors and eye colors
Free 100 Inventory Slots
Friend limit increases from 400 to 1000
Free 40 Photo Slots
No ads
Added icon to the left of your username

Able to apply for Volunteer Helper

Ability trade and sell in the Marketplace
Free 100% flow boost 
Ad blocker interference detected!
Wikia is a free-to-use site that makes money from advertising. We have a modified experience for viewers using ad blockers

Wikia is not accessible if you've made further modifications. Remove the custom ad blocker rule(s) and the page will load as expected.