Soho
is an elegant city, consisting on many attractions, like the Catwalk and Elevated Designs. This location promotes the fashionable designer Lady King.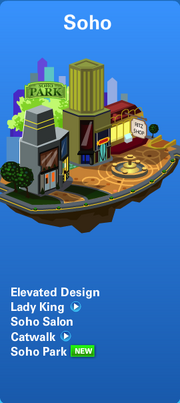 Things to do
Soho is a very interesting place, accompanied by interesting things to do.
Elevated Designs - Buy new & improved clothes from the designer Lady King
Marketplace - Quick access to items sold by other players
Soho Salon - Feeling a little ragged around the edges? New hair here
Catwalk Fashion Show - The thing that Soho is most known for, show off your style here
Lady King - Buy original Lady King designs
Lady King
The designer Lady King is known for her elegant yet timeless designs.
Some people may see the character Veronica whilst exploring Soho. She is the one who gives out Bejeweled-related challenges.
But, some may not know that Lady King is actually Veronica.
Veronica's ingame bio:
"Veronica King- Bejeweled Store Manager
Signature color: Gold
Motto: Diamonds really are a girl's best friend
Likes: Gold jewelry, diamonds, gowns, anything expensive
Dislikes: Cheap things, fake jewelry, non-designer goods"
See Also
Ad blocker interference detected!
Wikia is a free-to-use site that makes money from advertising. We have a modified experience for viewers using ad blockers

Wikia is not accessible if you've made further modifications. Remove the custom ad blocker rule(s) and the page will load as expected.