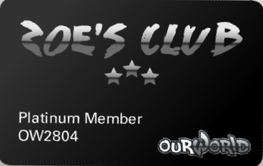 This item gives you Zoe's Club Residency for 1 month! It doesn't come with Gems, but you get access to the exclusive Zoe's Club Shop and Auctions packed full of ultra rare and limited edition items! You also get all the normal Resident benefits like the ability to sell in the Marketplace, access to exclusive areas, exclusive Resident items, a Mondo Condo, no Ads, 2x Flow, and more!
You can also upgrade your Residency to Zoe's Club Residency through purchasing it. There are 2 options for the upgrade, however in order to upgrade, you must be a Resident should you choose this method.
Ad blocker interference detected!
Wikia is a free-to-use site that makes money from advertising. We have a modified experience for viewers using ad blockers

Wikia is not accessible if you've made further modifications. Remove the custom ad blocker rule(s) and the page will load as expected.